Troy Captures Collar City Crown; Columbia's Building Momentum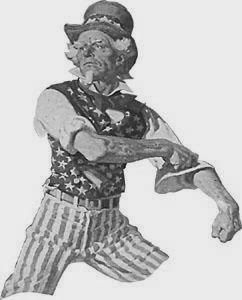 The Flying Horses of Troy and the Crusaders of Catholic High faced off in the title game of the Uncle Sam tourney on Saturday night - the least likely pairing according to our highly scientific polling over the last week.
Troy (4-1, 8-6) used three-hit, complete game shutouts from senior Sam Rivet and freshman Liz Belleville to roll over the Crusaders 6-0 for their fourth straight Uncle Sam title.
Meg Beditz went three-for-three from the plate and Nia Rowe made a pair of great grabs - web gem quality - in the retribution win for Troy. In their initial meeting this season, CHHS' Nikki Hedrick shut down the Troy offense for a 10-3 Crusaders victory.
And look out - the two cross-city rivals meet again this Wednesday (4 pm) at Troy High in a Big 10 contest.
Lansingburgh won the first four Uncle Sam titles and Troy owns the last four. Catholic High won in 2004.

TROY 6, CATHOLIC CENTRAL 0
CCHS TROY
ab r h bi ab r h bi
Buchan c 3 0 1 0 Beditz ss 3 2 3 1
Hedrick p 3 0 0 0 Bevevino 3b 4 0 1 1
Case ss 1 0 0 0 Daniels c 2 1 0 1
LaPlante 2b 3 0 0 0 S. Jones cf 2 0 1 2
Benoit 1b 3 0 1 0 Angriasno lf 4 0 0 0
Serflippi 3b 3 0 0 0 Kramer rf 3 0 0 0
Curnato lf 3 0 1 0 Belleville p 2 2 1 0
Ericson rf 2 0 0 0 Rowe 2b 2 0 0 0
Bouchard cf 2 0 0 0 Rivet 1b 3 1 2 1
Totals 23 0 3 0 Totals 25 6 8 6
Catholic Central (2-1, 4-4) 000 000 0 — 0 3 0
Troy (4-1, 8-6) 110 103 x — 6 8 0
E— None. LOB—CCHS 7, Troy 8. 2B—Rivet, S.

Jones. SB — Case, S. Jones, Belleville.
CCHS IP H R ER BB SO
Hedrick 6 8 6 6 5 4
Troy
Belleville 7 3 0 0 4 2
WP—Belleville
Catholic central pitcher Nikki Hedrick delivers a pitch during the championship game of the Uncle Sam Tournament on Saturday at Knickerbacker Park. The Crusaders fell to Troy in the title game. (J.S. Carras — The Record)
Hats off to the Crusaders (2-1, 4-4), who rallied for two thrilling runs in the top of the seventh to knock off undefeated Lansingburgh to move on to the championship game. Nikki Hedrick pitched a great game, limiting the Lady Knights' offense, but her team just couldn't push any across against Belleville in the final.

Lansingburgh's Erin Glikes was nearly perfect in the consolation game - she walked the game's leadoff batter but did not make a single mistake after that as the Lady Knights rebounded with a 13-0 no-hit victory in the consolation game.
Molly McDonough hit a triple, three singles and drove in five runs. Casondra Konifka and Sarah Cipperly both had three singles. Carissa Maloney hit a triple and four singles towards a perfect five-for-five night at the dish.

LANSINGBURGH 13, TAMARAC 0
Lansingburgh (10-0, 13-1) 102 440 2 – 13 21 0
Tamarac (1-4, 4-9) 000 000 0 – 0 0 3
Glikes and Volz. Fitzgerald, Ryan (5) and Dunn.

Although I froze my tail off, Knickerbacker Park was packed and everyone saw a set of very entertaining games.
It will be interesting to watch where Lansingburgh and Troy go from here. Can the Lady Knights rebound and hold on to that Colonial Council crown? Will the Flying Horses parlay this momentum into the sectional playoffs coming up at the end of the month?

-- Will Montgomery

----
Ryan wrote the following article about the Columbia High baseball team on Tuesday and we haven't been able to run it this week due to space limitations, so without further ado....

----
Ryan Kircher
The Record
EAST GREENBUSH — The Columbia High School baseball team had a week to remember last week.
The Blue Devils (3-1, 9-4) went 4-0 with wins over Shaker, Bishop Maginn and two over Guilderland.
Two wins over the returning sectional champs, the No.10 ranked team in the state, in just four days.
That was last week though and head coach Chris Dedrick and his team is focused on the present.
"That was big for our kids," Dedrick said of his team's success. "It helps build some momentum going into this week."
In the Suburban Council this year there's no room to rest on your laurels.
Teams will take turns beating up on each other all season long. The race for the league crown looks like it will be more marathon than sprint.
"It's still early in the season," Dedrick said trying not to get caught up in his teams early season success. "In the Suburban Council this year there's a lot of parity."
A quick glance at the standings proves Dedrick's point. No one team is running away with any of the Suburban's three divisions, with one game separating first and second place in each.
The Blue Devils still have games with Shenendehowa, Mohonasen, Colonie, Bethlehem and Guilderland left on their schedule in the second half of the season.
That said it's hard not to be impressed by the Blue Devils performance last week against Guilderland.
Guilderland was coming off a 5-4 victory over Colonie on Tuesday when they traveled to Columbia.
The game was a tight back-and-forth affair until Columbia's Patrick Puentes ended with a two out walk-off grand slam.
Columbia's bats stayed hot in the second game, a non-league affair at the La Salle Wood Bat Tournament at Geer Field. The Blue Devils put together a 10 run fourth inning on way to an 18-10 victory.
"Beating Guilderland twice in a week is an awesome accomplishment for our team," Dedrick said adding that he has a lot of respect for Guilderland coach Doug LaValley and the Dutchmen team that is still the champ until someone knocks them off.
Guilderland lost to eventual state champion Proctor in the state regionals last year.
Dedrick said while his team will build confidence from those wins they won't get overconfident.
"This team is pretty focused," he said. "They're still determined, they practice hard every day, and they're very competitive guys. They had a goal this year; they want to go to states."
One reason for the Blue Devils success is the clutch contributions it's received from a variety of players.
"Right now the offense is beginning to click," Dedrick said of his well balanced line up. "They understand their roles and they're comfortable in their roles in the line up, we have four or five guys around .500."
The Blue Devils also can trot out three solid starters to the mound, something which may help separate them from the pack later in the year. Matt Montross, Austin Chase and Nolan Gaige have made things easier for coach Dedrick in that he can confidently go into each game with a fresh arm on the hill.
"I'm lucky to have three guys I feel real comfortable putting them on the mound," he said adding that Vinnie Rullo and the bullpen have also done the job closing out games.
If there's one thing the Columbia team has, it's depth. Columbia graduated six starters last year but has not missed a beat replacing them.
They have 25 players on their roster and have played 17 or 18 players a game at times.
Not only can it hard to find a weak spot in the line up it can be hard to find a weak spot on the bench.
"I can honestly say we have 25 good players on our team," said Dedrick.
He tries to work everyone into the game whether they pinch hit, pinch run or come in as a defensive replacement for an inning. The goal is to get everyone involved now so they're comfortable later in the year if called upon. "It's important to develop depth; I think it's really going to help us," he said of his teams strength in numbers. "You never know when you're going to need them."
With the way the Suburban looks the all hands on deck approach may be the only way to come out on top.